↑Carolina Peach Ice Cream
Peach ice cream, and other ways God shows He cares about the little things ⇔ 
by Vivian Krigline (in Hong Kong), July 13, 2018. wp.krigline.com ⇔
Vivian first shared this with friends on Facebook, but many liked it so we're also posting it here.
~  ~  ~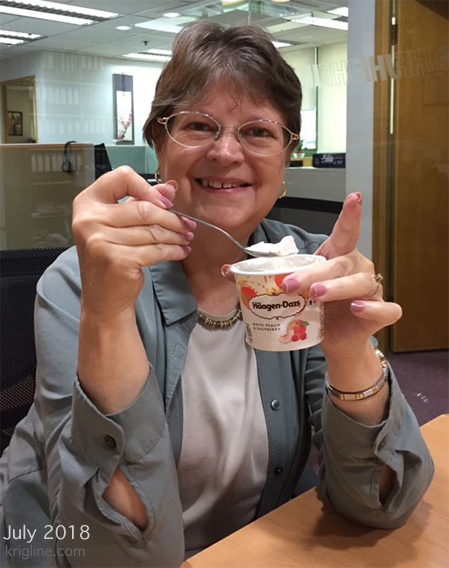 I was reminded that it is once again "peach season" in Swansea, South Carolina, when my sweet niece Vicky posted pictures of beautiful peaches given in love by patients at the clinic where she works. Thus, it's the middle of July, and I am 8,000 or so miles away from SC and Swansea peaches (8,410 miles, actually–yes I googled it). This also means that I am some 8,000 plus miles away from my sister's (or anybody's ) homemade peach ice cream.
Well… anyone who says God doesn't care about the little things in life has not lived outside their home country or isn't paying attention (not that I always pay attention either…but today I did). As I walked into my local neighborhood 7-11 around midday, to pick up a cold Coke in steamy Hong Kong, my eye caught a sign for something with peaches in the ice cream freezer. I circled back around (7-11 is always crowded this time of day) and studied the sign carefully. Yes! In English and Chinese: Peach yogurt, and White Peach and Raspberry Ice Cream from Haagen-Dazs (made in France), and on sale! Though I don't recall buying this brand before, I picked one up for myself, and a few more for the office staff, and (to quote Luke 2:20) "returned, glorifying and praising God", thankful for the little bit of something today that reminds me of home!
No, it doesn't taste anything like my sister Maxine's or my Mom's Carolina Peach Ice Cream, and the serving was small, but hey…I'm in Hong Kong and this stuff is made with white peaches (yes there were chunks of peaches), and it came from France… let's just say southern France for the fun of the story! But here it is…in Hong Kong..after traveling all those miles from France…arriving and on sale in the middle of July: Peach Ice Cream! It's just fun when a "little miracle" like this happens, and even more fun that I noticed! The peach ice cream will be gone from 7-11 next week…but it was here today…and I noticed that little thing that made today special.
Y'all enjoy your peaches and ice cream, and the rest of your summer!!! And keep your eyes open for those big and little ways that God continues to show how much He loves and cares for you!
4 What is man that You are mindful of him,
And the son of man that You visit him?
5 For You have made him a little lower than the angels,
And You have crowned him with glory and honor.
9 O Lord, our Lord,
How excellent is Your name in all the earth!
–Psalm 8: 4,5,9
To talk about:
Tell a friend about something you fondly remember from childhood.
If you have ever lived abroad (or made a long trip), what is something you missed while away, and why?
Talk about a time when you feel like God answered a prayer, or even (like Vivian) granted a special blessing that you had not even prayed about.
What are three things that you are THANKFUL for today?
Scriptures quoted on this website are primarily from The Holy Bible, New King James Version, (Nashville, Tennessee: Thomas Nelson, Inc.) 1982; also on line at www.biblegateway.com
For more information about Christianity, check out https://peacewithgod.net/
---
Original content ©Michael or Vivian Krigline, including photos if noted. For contact info, visit About Us. For privacy info or to make a contribution, see our Website Standards and Use Policy page (under "About Us"). [Titles that start with ↑ point to devotional articles that help us "look up".]