↑Have you hugged your paper towels?
Vivian Krigline gets a special treat, far from the comforts of home ⇔ 
by Vivian Krigline (in Xi'an), June 2003. wp.krigline.com ⇔
Vivian first shared this with friends on Facebook, but many liked it so we're also posting it here.
~  ~  ~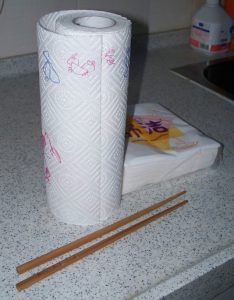 "Delight yourself also in the Lord, and He shall give you the desires of your heart."  (Ps. 37:4 NKJV)
The Bible verse above has always meant a lot to me. Unfortunately, I'm afraid I'm not always good at keeping my part of this—but God sure is! Of course we depend on Him to help with our major issues. But, how many times (have you ever thought about how many times?) has He given you that "whisper of a wish"? No, I am not talking about a real "prayer"—it might even be something you would probably not even dare to say out loud—but merely a 'wish' that only you know about. Then, when it happens (wishes do come true you know!), there is that special Voice inside that laughs a little and says "I love you enough to give you this, too!"
Well, here's my story. Moving to China meant moving away from many conveniences previously taken for granted. For example, I used to be able to twist a faucet and get hot water to wash dishes, turn a knob to change the temperature of my whole house, and drive a car to go when and wherever I wanted, to get whatever I wanted! Not any more.
After moving to China, many such things became a bit more of a challenge (in part because of my limited ability to use the Chinese language). Shopping was one of these challenges! After about a month in Shanghai, I learned what really could be found and what couldn't. At first, my can't find list was longer than the can find list, but over time many of my can't finds were struck off the list. One of those items was paper towels!
Two years passed and we moved to Xi'an, which meant learning all over again what could and couldn't be found. My can't find list grew again. One of the many items back on that list was paper towels. After a few months, I found where to buy "western" things like Andrew's breakfast cereal and mustard, but paper towels remained on my can't find list.
One day last week, while working in my kitchen, I just said (out loud, because I talk to myself that way): "I sure wish I could get a real paper towel—these napkins are nice, but I sure miss real paper towels."
Not three days went by when I noticed a beautiful roll of paper towels in an American friend's kitchen! At my excitement, she laughed and told me she was just as surprised to see them in her friend's home—then she told me where she got them! When I got home with my paper towels (3 rolls in a pack!) I again heard my Heavenly Father laugh that sweet "I really care for you" laugh, and I earnestly thanked Him for my paper towels!
Now each time I use my new-found paper towels I try to remember to "delight myself in the Lord" because I know how much he delights in giving me the "desires of my heart." And if He cares about such little things in our lives, how much more does he care and want us to trust Him with all of our cares and worries!
To talk about:
Vivian found the paper towels in a friend's house, who had found them in a friend's house. Talk about why it is important to have local friends.
What do you think it means to "delight yourself in the Lord"? Explain.
Read Mark 11:24-25 (see below); what key ideas or thoughts come to mind?
Referring to Ps 37:4 and Mark 11:24-25, someone said: "There comes a time in your life when the Lord will give you whatever you pray for, but if 'delighting in the Lord and seeking to obey Him with all your heart' is not your deepest desire and delight, then you are not there yet." Talk about this quote. Do you agree? Why or why not?
Talk about a time when God gave you something that seemed out of reach. If could be something BIG or something SMALL (like paper towels).
Tell us three things that you are THANKFUL for today.
"Therefore I say to you, whatever things you ask when you pray, believe that you receive them, and you will have them. And whenever you stand praying, if you have anything against anyone, forgive him, that your Father in heaven may also forgive you your trespasses."  (Jesus – in Mark 11:24-25 NKJV)
"Now this is the confidence that we have in Him, that if we ask anything according to His will, He hears us. And if we know that He hears us, whatever we ask, we know that we have the petitions that we have asked of Him." (1 John 5:14-15 NKJV)
Scriptures quoted on this website are primarily from The Holy Bible, New King James Version, (Nashville, Tennessee: Thomas Nelson, Inc.) 1982; also on line at www.biblegateway.com
For more information about Christianity, check out https://peacewithgod.net/
---
Original content ©Michael or Vivian Krigline, including photos if noted. For contact info, visit About Us. For privacy info or to make a contribution, see our Website Standards and Use Policy page (under "About Us"). [Titles that start with ↑ point to devotional articles that help us "look up".]