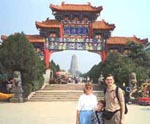 Xi'an Photo Album ⇔ (Clicking on photos reveals the entire caption and often makes them bigger.) 
Introduction
Xi'an has been China's capital several times, starting in about 200 BC. During the Tang dynasty (particularly from AD 618 to the late 700s), this city (then called Chang'an) was probably the largest and most prosperous city in the world. As the starting place for the Silk Road, the city has long been a center for the exchange of both goods and ideas between East and West.
From the 6000-year-old ruins unearthed nearby, to dozens of tombs left by the many dynasties that had capitals here, Xi'an has provided important clues into China's past. When we lived in Xi'an (2002-05), the population was about 6.5 million; with all those people and the continual construction found in all of China's cities, Xi'an had plenty of dust and pollution–which were hard on our health–but the city also has a lot going for it, both in terms of history and as the "door" to China's vast central and western regions.
I (Michael) first visited Xi'an in 1985, while studying at Xiamen University. When I moved my family moved to China in 2000, our first "sightseeing/history trip" was also to Xi'an (Aug 2000). Then we moved to Xi'an in 2002, where I taught at Northwestern Polytechnical University until 2005.
Nov 2016
I'll start with a few photos from our quick 2016 visit, but then add "historical" photos from previous visits.
Previous photos
To the outside world, Xi'an is most famous for the nearby Terra-cotta army of China's "first emperor," Qin Shi-huang. He was certainly one of history's most ambitious leaders, for he is credited with unifying various warring kingdoms, constructing the Great Wall, building the largest palace in the ancient world, and creating this tomb containing thousands of life-size soldiers to guard him in "the next life." The exquisite clay army lay silent in their underground formation from 200 BC until 1974 when several farmers discovered them by accident. In addition to the clay soldiers and horses, two bronze chariots were also buried (see below). This is a UNESCO world-heritage site, and Chinese officials are to be commended for their work in patiently unearthing and reconstructing the figures, and carefully protecting one of the most important archeological discoveries of all time. I'm also glad that the ban on taking photos had been lifted before our 2005 visit!
The following photos were mostly taken from my old website (http://www.krigline.com/xian.htm).
Here's how one of my NPU students described Xi'an:
I love Xi'an, my hometown, because of its history, food and people. Xi'an's most remarkable feature is that many ancient ruins still exist. The emperors of eleven dynasties in ancient China set their capitals in Xi'an. Secondly, there are various delicious snacks here (especially on Snack Street), and Xi'an gathers flavors from all over the country. Last but not least, people in Xi'an are very friendly, warm-hearted, diligent and brave. However, Xi'an isn't perfect. The biggest problem is pollution, and sometimes you see sandstorms in spring or fall. Nonetheless, I believe Xi'an has a bright future; people here are trying their best to improve the environment. I love my hometown, and I welcome you to come meet the wonderful people, taste the great food, and learn about Xi'an's rich history. — A Description of Xi'an (Amy, Junior 2002-03)
WordPress doesn't always put photos where I want them, but for most people, the photo on the left shows NPU's beautiful tree-lined street with a snowy frock.
Another treasure that was buried under Xi'an's dirt for a millennium is the Nestorian Tablet, now protected in Xi'an's Forest of Steles Museum. The tablet was commissioned in the 700s (AD), for the opening of a Christian monastery and pagoda. The tower still exists (a UNESCO world heritage site). You can read more about this on my DaQin page.
In addition to its famous terra-cotta army, Xi'an also has many other ancient tombs, palaces and temples. It has one of the best history museums in China, a wonderful bird park, and beautiful natural areas in the nearby mountains. It's really a great place to visit!
---
©2016 Michael Krigline. For contact info, visit About Us. To make a contribution, see our Website Standards and Use Policy page (under "About Us").