Our 2019 Blog ⇔
(Clicking on photos reveals the entire caption and often makes pictures bigger)
Jan-Dec (click here for 2018)
Dec 31, 2019
Actually, I'm updating with half of January past us (!), but here are some Christmas photos that are worth sharing before we close the 2019 blog.
Dec 8, 2019
I can't remember a time when I've had so much to do (and I can remember many times when I've had TOO MUCH to do!). Merry Christmas! Thanks for your interest in our lives.
To learn about "Advent" or Christmas, visit our educational website:
http://eflsuccess.com/advent/ (or see the drop-down menu at http://eflsuccess.com/holidays/)
Nov 20, 2019
Thanksgiving is almost here, and soon it will be Christmas. How time flies! Here are a few photos with captions for our friends.
Oct 5, 2019
To presumptuously expand Proverbs 30:15-16: "There are six things that never say "Enough!": the grave, the barren womb, land (which is always thirsty), fire, your "unread email" count, and your blog's "update" button–they all never say "Enough!"
So, there never seems to be "enough" time to get around to a blog update, and thus I'm just throwing up a few photos at the moment, hoping to add captions later.
And if you are curious about the authentic version of Proverbs 30:15-17, here it is in the New International Version (NIV)
(15) "The leech has two daughters. 'Give! Give!' they cry.
"There are three things that are never satisfied, four that never say, 'Enough!':
(16) the grave, the barren womb, land, which is never satisfied with water, and fire, which never says, 'Enough!'
Sep 10, 2019
Our boxes have started to arrive from Hong Kong. We expected them to take six months, so this is a pleasant surprise. We just wish the flooring was finished, so we could buy the needed bookcases and what not to put things in! (We have to leave a wide space all around the room so that the workman can someday put in our baseboards.) Even though the floor isn't really "done," we moved in over a week ago. A gas leak had been discovered at our temporary residence, so there were no hot showers for two weeks; thus, we were pretty anxious to get into the new place, ready or not! Fortunately, my brother is a wonderful handiman, so he spent a few days helping us. One step at a time….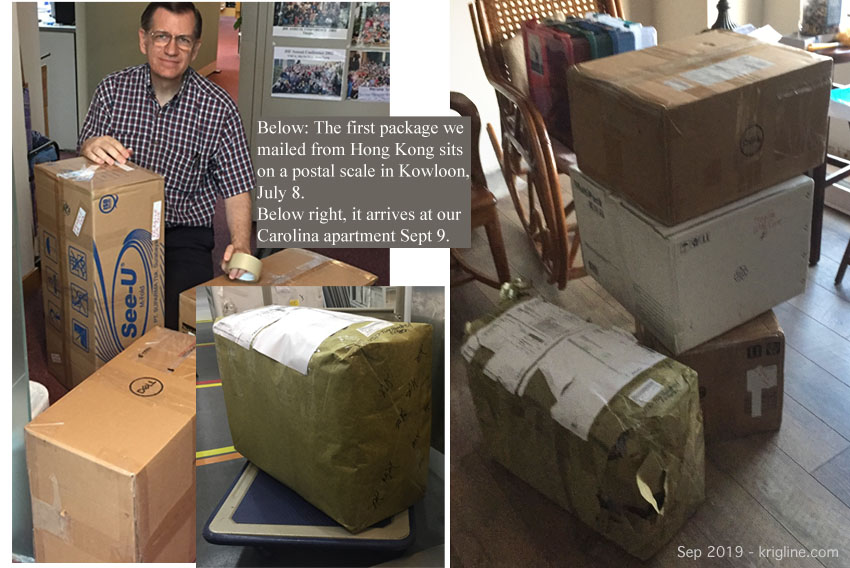 Aug 31, 2019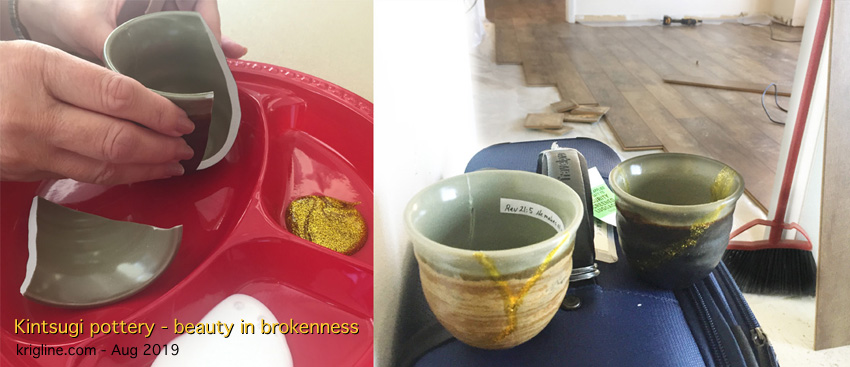 After Vivian and I left Hong Kong in late July, our first stop in the US was a "debriefing" retreat for people who have been working abroad. One interesting exercise was to "mend" broken pottery, adding gold paint to the cracks, reminiscent of the Japanese art of Kintsugi. One article said: "While the general Western consensus on broken objects is that they have lost their value, …the kintsugi method conveys a philosophy not of replacement, but of awe, reverence, and restoration. The gold-filled cracks of a once-broken item are a testament to its history." Yesterday, it seemed appropriate, therefore, to let our kintsugi cups be the first decorative items introduced to our still-not-ready apartment in South Carolina (right photo). Our transition is taking longer than expected, and while being uprooted from HK due to our daughter's crisis has left us feeling somewhat "broken," we try to be filled with awe and reverence for the God of restoration, grateful for our 20 years in China and looking forward to the future He has planned for our colleagues, for us, and for our family. Thanks for your prayers.
Aug 19, 2019
We've been in the US for about a month, and we've been constantly busy or on the move. We've been in "Limbo" since we left HK, first attending a conference, and then in Columbia where Vivian cares for our grandchildren while I (mainly, so it seems) deal with upkeep on the studio apartment we rent out and the 2-bedroom unit we will live in. Today I'm trying to paint "our" apartment, which is also having the flooring replaced (among other things). So, I don't much have time to make comments, but here are a few photos with captions.
Jun 24, 2019
As I mentioned a few weeks ago, I'm spending June in Hong Kong, trying to help my staff prepare to run things with me working from the other side of the world. That means packing, selling and saying goodbye. The days just never have enough hours to get everything done. But I was "out and about" yesterday morning with friends, so I thought I'd post a few photos.
Jun 9, 2019
May sped by because I was in the US, participating in various meetings (I think I counted about 25 meetings and appointments!), but also spending a lot of time with Vivian and our family. Last Thursday night I returned to HK. Here are a few photos from the busy month.
I took the last photo above at Columbia's Finlay Park. The view was even better when we left 20 years ago, as it featured a pretty fountain. I hope it is just shut down temporarily! Vivian and I met and married in Columbia in the 1980s, and lived here for 11 years before moving to China. When we met, Vivian had always called Columbia "home" (though I'd already lived in many places). Because of special needs in our daughter's family, we've decided to move back to Columbia, especially to help take care of the children. I'll still be working for the same charity, but with a different role. I'll probably have the chance to fly back to Asia on occasion, too. But we'll miss being close to all of our friends in China after our next "big move" in July.
Apr 30, 2019
April has been a busy month of work. I did hire a new Office Manager, Martha, and much of my time was spent trying to fill this position, and then helping Martha get used to things in the office. She kindly invited me to meet her family for a "home cooked meal" (her husband is a great cook!), and that's when I got this month's only photos…
Mar 31, 2019
Today is the last day of a wonderful week in Israel, with friends from America. I think I took a thousand photos, and Vivian probably took as many, so it will take some time to get them sorted and ready to post on our blog. But here's the first few….
Mar 17, 2019
We always love having visitors. These dear friends from the US visited in mid March. We enjoyed meals together, and also got to enjoy Hong Kong's annual flower show.
Feb 28, 2019
In Asia, we've just passed Chinese New Year, with its promise of new beginnings. For us, that means gathering with friends in Thailand for the annual conference of the charity we work for. Thus, it is an especially busy month, full of travel. As usual, I'll give you a glimpse of our story in pictures.
Jan 23, 2019
We started 2019 in the US. After spending Christmas with family in South Carolina, we headed to Ohio and Pennsylvania to be with more of the family. Then we flew to Oregon for a conference, and saw friends in Washington, before returning to Hong Kong. Here's a bit of our story in pictures….
We put in a lot of miles during December and January, but we were grateful for many opportunities to be with family and friends, to talk about our work, and to visit some interesting places.
(click here for 2018 blog)
---
©2019 Michael Krigline. For contact info, visit About Us. To make a contribution, see our Website Standards and Use Policy page (under "About Us"). Pre-2015 blogs can still be found on our old archive pages.