Charleston Photo Album ⇔
Mar 2023. wp.krigline.com ⇔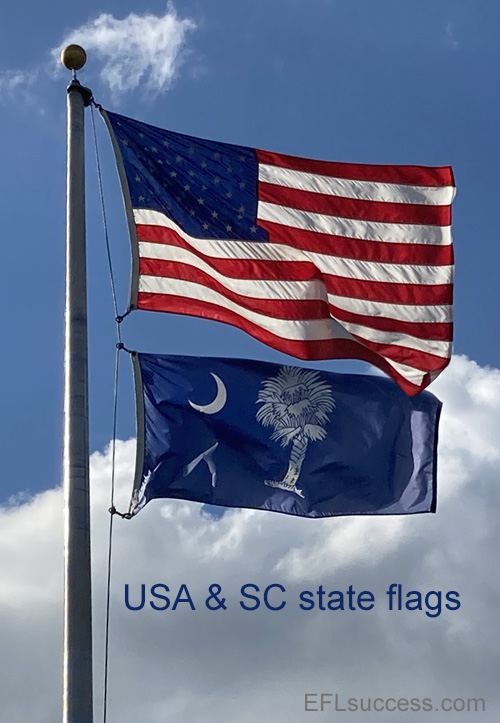 During the local university's Spring Break, I took 12 international students from seven countries to one of America's most historic cities: Charleston, South Carolina.
As the Revolutionary War began (mid 1770s), Charleston was already a prosperous city, exporting tons of rice and indigo to the British Empire. (For a related article, see our EFL website: http://eflsuccess.com/indigo/.)
British ships opened fire on Charleston's Fort Moultrie, but their cannon balls bounced off the local logs, made from Palmetto trees; it was the first "victory" for the rebellious colonists. Indigo, exported through Charleston, is the blue color of the SC flag, so the banner displays two symbols that point to Charleston.
Here are a few photos from our trip.
(Unfortunately, WordPress's new "Block" editor cuts off the photo captions, but you can see them if you click a photo and then click the "i" in the corner.)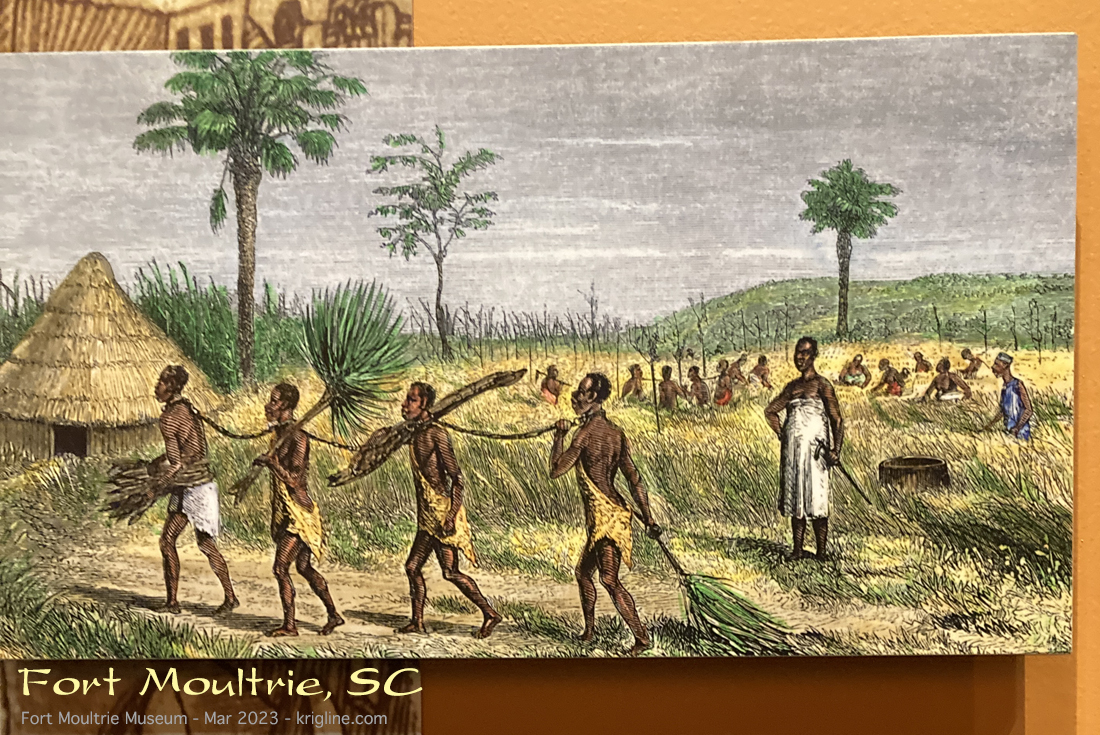 ---
Unfortunately, Charleston also played a key role in America's slave trade. Many local and National Parks now seek to tell the stories of these enslaved people. Below these pictures, the captions read as follows.
"African & Enslavement. Slavery is as old as humankind. Powerful West Africans enslaved the people they conquered, but bondage wasn't always permanent. That changed when Europeans began to purchase captured Africans for forced labor in the New World's gold and silver mines, and sugar, tobacco, rice, and cotton plantations. Vast commercial networks, powered by profits of the Atlantic slave trade, linked Europe, Africa, the Caribbean, and the Americas. Between 1500 and 1870, an estimated 10 million to 12 million Africans were shipped to the Western Hemisphere. It was the largest forced migration in history.
"Charleston was the major port of entry for Africans in North America. Historians estimate that slave ships brought 200,000 to 360,000 men, women, and children into Charleston's harbor until the international slave trade was abolished in 1808. The trade continued afterwards, although in secret."
For more about the slave trade, and especially the freedom purchased by Civil War, see my article about Juneteenth.
Things on this website ©Michael Krigline unless otherwise noted. For contact info, visit About Us. To make a contribution, see our Website Standards and Use Policy page (under "About Us").