Prose about the seasons of the soul. ⇔
April 1987. wp.krigline.com ⇔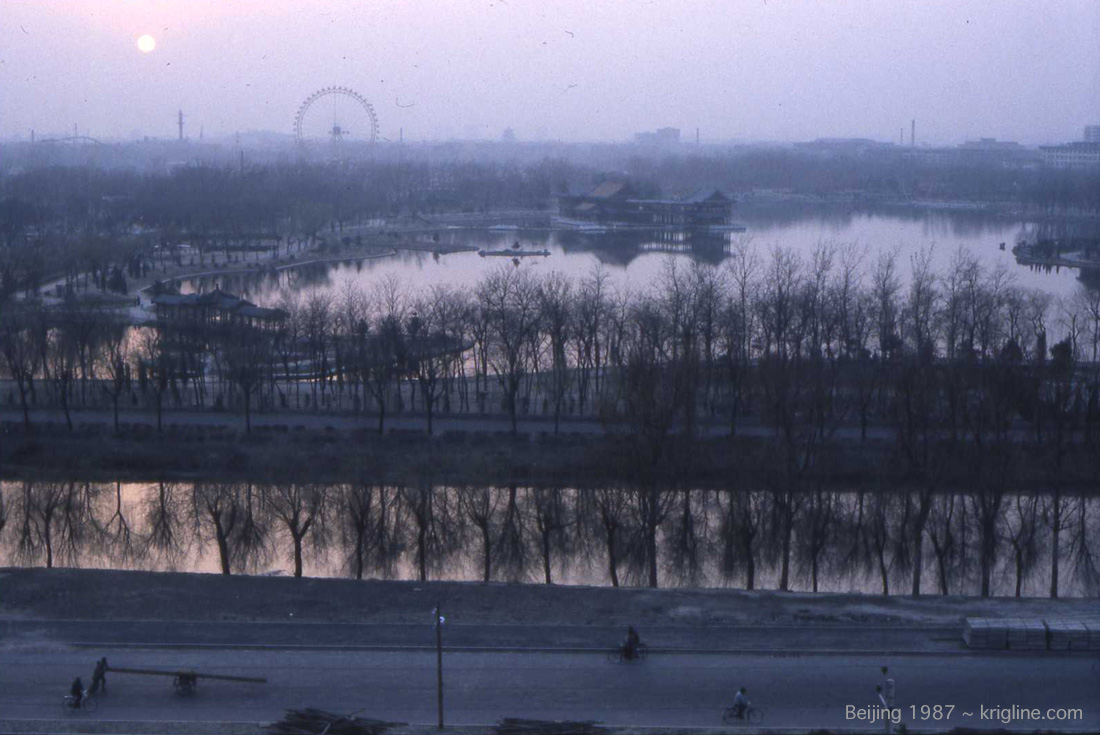 From 1985 to early 1987, I studied Mandarin in Xiamen. Then I moved to Beijing to start teaching English at a small college. I was quite alone in Beijing, and the gray Beijing winter (seen here from my hotel) brought on a season of depression.
~  ~  ~
Spring, Come Soon
By Michael Krigline, April 10, 1987 (Beijing)
The weather today is quite cool after yesterday's rain. The preceding two days were uncommonly warm — even hot. That was all it took for the trees to decide that they'd had enough of winter. Within those 48 hours, new life had made its un-retractable entrance on all sides. The park that lies below my window, naked and gray since my arrival two months ago, is now softly clothed with a misty green frock. The weeping willows in particular are leading the spring parade, while their sometimes taller neighbors continue to beg for release from the Giver of Life, with bare arms pointed to the sky.
Did I say that "new" life had burst forth? It's not really "new" is it? Just the same old life that clothed them in previous seasons of green, the life that even in the dead of winter still fed and preserved them, working under the surface until the proper time—the proper signal from the heavens—to burst forth.
So it is, I trust, with me. The life I thirst for so is still present though unseen, working (within) the miracles that only winter can bring. The Gardener has dug deep wells here in seasons of plenty, and in His time He will again make the fountain flow. In the meantime, I wait in silence, arms uplifted like the neighbor trees, envying the willow and the blowing grass, longing to feel the wind again blowing through my leaves.
Come soon, Oh Spring; come soon.
Ten Days Later
About 10 days after I wrote that 1987 journal entry, I wrote the following:
"The preceding is a page from my personal journal. It was written a week and a half ago, near the end of a period of winter-like depression — one of the seasons of my soul.
"Yesterday was Easter (1987). At 5 a.m. I left to join almost 400 fellow 'foreigners' at the Great Wall for an Easter Sunrise Service. It was quite an experience! The richness of the Easter season — the Springtime of Jesus' resurrection — has done much to restore my hope. Whereas two weeks ago I was ready to take the first plane out of here, I am increasingly confident that the strength and endurance I need will be provided to see me through two or three more months in China."
A few months later, in July 1987, I took the longest trip of my life, overland to the UK and then on to the USA (click here for some photos).
A favorite song
The above contemplation brings to mind a favorite song, "Winter to Spring" sung by Evie Tornquist. I might have even known it back then! When I think a situation is impossible, this song reminds me that God can do what seems impossible — like turning my "winter" to "spring." The chorus goes like this:
Our God rules everything, and He can bring new life again
The Creator Himself can even turn the winter to spring
God can turn your winter to spring
---
I posted these thoughts from old journals in 2015 after posting a poem about "spring," written by a friend.
---
Original content ©Michael Krigline, including photos if noted. For contact info, visit About Us. For privacy info or to make a contribution, see our Website Standards and Use Policy page (under "About Us"). [Titles that start with ↑ point to devotional articles that help us "look up".]