Hong Kong to London without an airplane in 1987⇔ (Clicking on photos reveals the entire caption and often makes them bigger.) 
Summer 1987
My students often say they are impressed by all the places I've been. Indeed, I've been blessed with many opportunities to travel, and my websites only show the places I've been since buying a digital camera (primitive though it was in 2000). But after studying at Xiamen University for two years (1985-87), I took the longest train-ship-bus journey of my life. It took a week to get from Beijing to Moscow. Once I arrived in the UK, I spent a month in Scotland (with my sister) before flying to the US to start grad school. Below the map, you'll see a few scanned photos from the trip; maybe someday I can present more.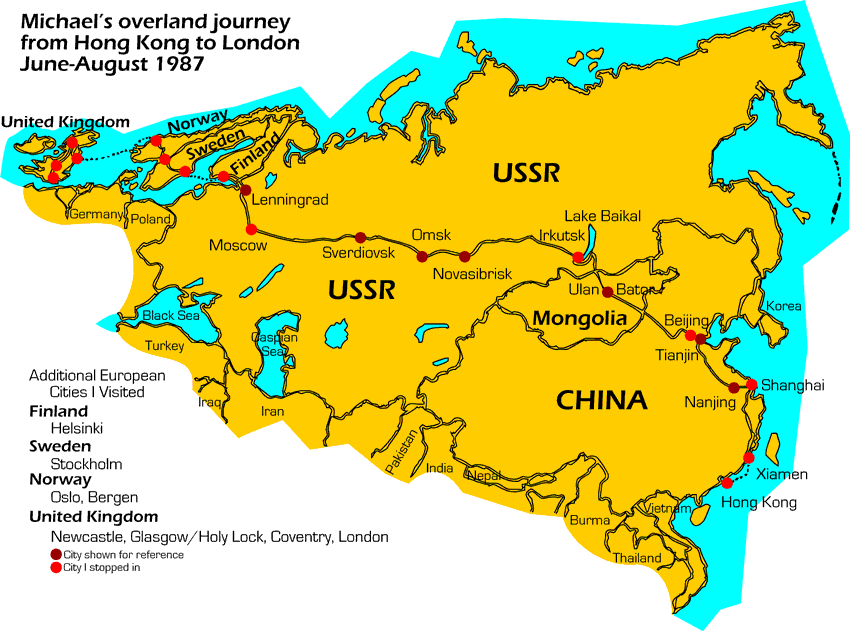 In a nutshell, I went from Hong Kong to Xiamen by ship, then took a train to Shanghai, and another to Tianjin, another to Beijing. Then I took the "trans-Siberian" railway from Beijing, through Mongolia, to Irkutsk (Lake Baikal). As I recall, it had taken 4 days to get from Beijing to the Lake, so I was happy to get off, get a shower, and do a little sightseeing. About 24 hours later, I continued the train journey to Moscow (another 4 days). After visiting a friend in Moscow and spending a few days (maybe two?) in the area, I took a train to Helsinki, spending a day or two there. A ship took me to Stockholm (I remember that it was "sunset" all night–never getting dark), and I spent a few days with friends in Sweden. Then a beautiful train ride took me over the mountains to Oslo, and a day or two later on to Bergen. Then I took a ship to Newcastle-on-Tyne where I saw more friends, before travel to see my sister in Scotland a day or so later.
It was a long, lonely trip, that would have been much more fun had I been traveling with a friend! But I saw a lot of interesting places, met a few friends along the way, and was sort of nursed back to sanity by my sister and brother-in-law during my month in Scotland. Eventually, I flew from London back to the US, to start graduate school.
---
©2016 Michael Krigline. For contact info, visit About Us. To make a contribution, see our Website Standards and Use Policy page (under "About Us").