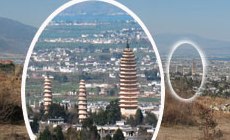 Dali Photo Album ⇔ (Clicking on photos reveals the entire caption and often makes them bigger.) 
July 2016
One of the best-known scenic places in Yunnan Province is Dali. I visited a good friend (Brian) and his family in July 2016 (see my blog for details), but I had been to Dali with my own family in 2007 (see bottom of this page).
High above the Old Town, you'll find one of the two campuses of Dali University. It has a great view, but I don't think I'd enjoy all the hiking needed to get around!
March 2007
We took our first trip to Dali while my parents were visiting in 2007; these photos (and caption) are from that trip, copied from my old website (http://www.krigline.com/dali.htm).
I can't say enough about our short trip. The food was good, the hotel was nice, and the sights were beautiful and interesting. The movie studio offered us a chance to use a bow and arrow–Andrew particularly enjoys the chance to have such hands-on fun, but Michael and his dad enjoyed it too!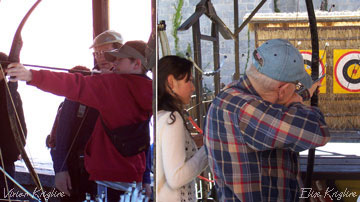 Our van circled the lake on the second day, offering great views of the mountains. We had left Kunming Friday morning and were back for a late dinner on Saturday.

The circled portion of this photo (and the inset enlargement) shows one of Dali's most famous sights: three ancient pagodas near a monastery. Because of our limited time, we only saw them from afar, but we did get to walk through the town, and also experienced a traditional tea ceremony. This shot was taken from the movie studio; the ancient town is between us and the pagodas.
---
©2016 Michael Krigline. For contact info, visit About Us. To make a contribution, see our Website Standards and Use Policy page (under "About Us").