Our 2021 Blog ⇔ (Clicking on photo galleries reveals the entire caption and often makes pictures bigger; for individual photos, "open in new tab")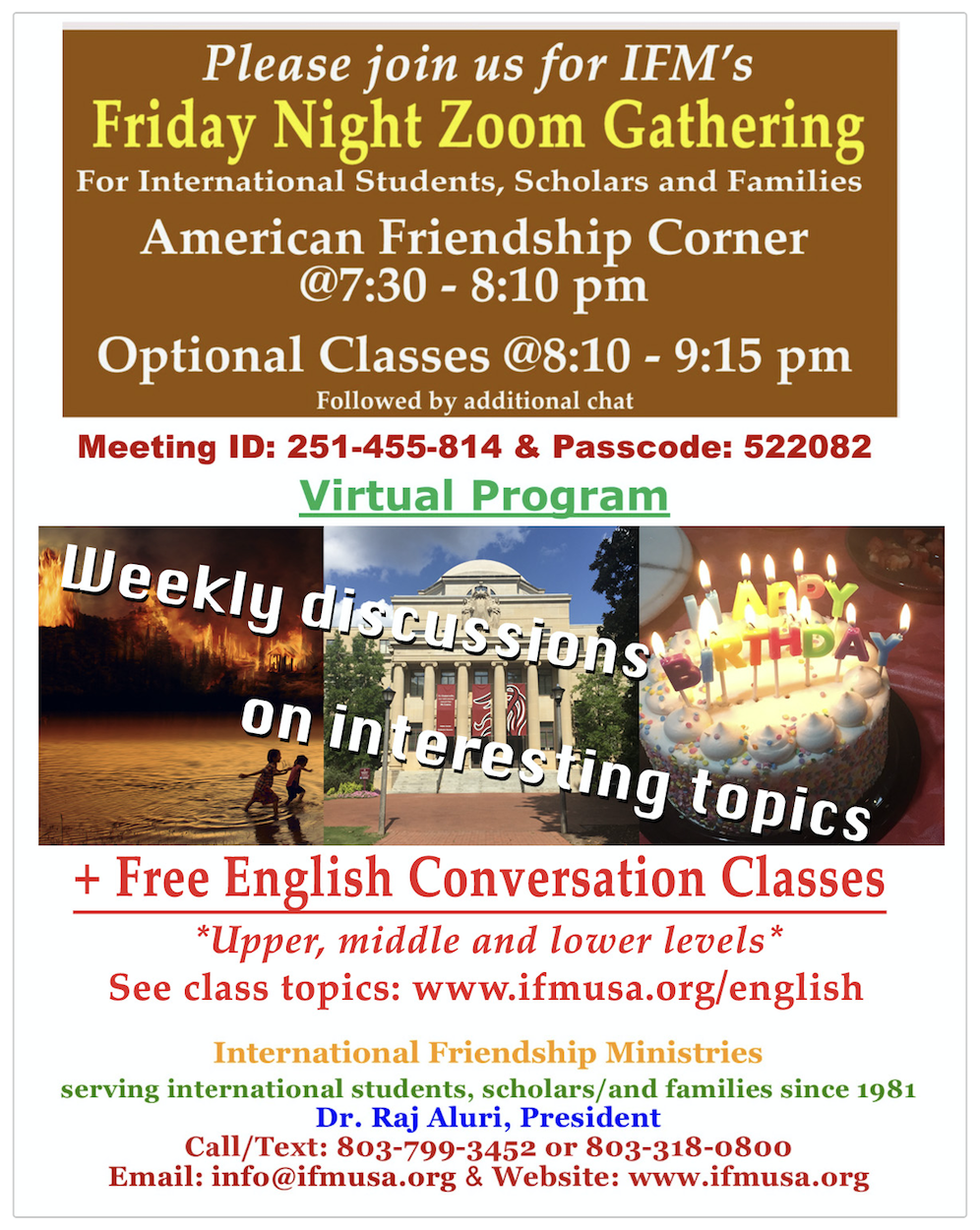 Jan to present (click here for 2020a or 2020b)
Thanks for visiting wp.krigline.com. If you are an old friend or former student, maybe we can get "caught up" during IFM's weekly Friday night Zoom gathering. Everything is always free, everyone is welcome, and with rare exceptions I'm participating (and often teaching). From 7:30-8pm, guests talk one-on-one with American volunteers who enjoy meeting our international friends. The meeting ID and passcode are always the same, or you can write to the address shown for more info.
June 12, 2021
Since mid-May, I've invested many hours daily to help my friend Dr Aluri prepare for the 2021 Columbia International Festival. Due to COVID-19, we faced many uncertainties and challenges. But on June 5&6, the Festival was open to the public, and an estimated 8000 enjoyed the chance to see, taste and experience the world. Here are a few representative photos from this year's popular annual event.
May 7, 2021
Space seems to be closely connected to sanity, and after a year of COVID conditions we have been feeling the need for both. In April, while the kids were on a vacation with other relatives, we headed for the hills of North Carolina to enjoy a spacious change of scenery. Since our return, we've been busier than ever preparing for the Columbia International Festival (and looking for a more spacious home).
If you can't read the caption under Billy praying, here it is: "The secret is not me. So many people think that somehow I carry a revival around in a suitcase, and they just announce me and something happens – but that's not true. This is the work of God, and the Bible warns that God will not share His glory with another. All the publicity that we receive sometimes frightens me because I feel that therein lies a great danger. If God should take His hand off me, I would have no more spiritual power. The whole secret of the success of our meetings is spiritual – it's God answering prayer. I cannot take credit for any of it." ~Billy Graham
If my comment about Ruth Graham's gravestone make you wonder what the Gospel is, see my article on being born again.
Mar 16, 2021
After lunch with friends, I got my first COVID-19 vaccine today (Vivian has already had both shots). Here are some recent photos.
Feb 26, 2021
Although we don't have many photos to show for all our work, you can enjoy some of the "fruit" of our labor on our "English as a Foreign Language" website: EFLsuccess.com. I've added study guides for some good films, like Family Man, Far and Away, and It's a Wonderful Life. I've also added lessons about Valentine's Day. Look at the "Recent Posts or Updates" box toward the top.
Today is the Lantern Festival in China, marking the end of the Spring Festival (Chinese New Year) holidays. I've long enjoyed this holiday, being fond of the beautiful lanterns on display at this time. This year, being in the US, we helped our grandchildren make paper lanterns to decorate their home.
Feb 10, 2021
Vivian uses her collection of toy bears to add color to our apartment month to month. "Grandma and Grandpa bear" always stay under the TV (yes, Grandpa has control of the remote), but Valentine's Day bears now keep them company. Across the room, a Groundhog Day bear enjoys the blossoms of our "Christmas cacti" (which normally don't bloom until around Chinese New Year–which is this Friday). Today is the birthday of one of my nieces, so I created a graphic for her, and I was so happy with the result that I'm posting it here too! For our foreign friends (who might not understand the white text), if there's a shadow on Groundhog Day (Feb 2), then winter will be shorter; the cacti in the photo bloom only once a year (often in Feb); and Valentine's Day (for lovers) is in the middle of this month. Oh, and "love bears all things" is a quote from "the Love chapter" in the Bible: 1 Corinthians 13, which I'll paste below.
If I speak in the tongues of men and of angels, but have not love, I am a noisy gong or a clanging cymbal. 2 And if I have prophetic powers, and understand all mysteries and all knowledge, and if I have all faith, so as to remove mountains, but have not love, I am nothing. 3 If I give away all I have, and if I deliver up my body to be burned,[a] but have not love, I gain nothing.

4 Love is patient and kind; love does not envy or boast; it is not arrogant or rude. It does not insist on its own way; it is not irritable or resentful; 6 it does not rejoice at wrongdoing, but rejoices with the truth. 7 Love bears all things, believes all things, hopes all things, endures all things.

8 Love never ends. As for prophecies, they will pass away; as for tongues, they will cease; as for knowledge, it will pass away. 9 For we know in part and we prophesy in part, 10 but when the perfect comes, the partial will pass away. 11 When I was a child, I spoke like a child, I thought like a child, I reasoned like a child. When I became a man, I gave up childish ways. 12 For now we see in a mirror dimly, but then face to face. Now I know in part; then I shall know fully, even as I have been fully known.

13 So now faith, hope, and love abide, these three; but the greatest of these is love.

"The Love Chapter" ~ 1 Corinthians 13 (by St Paul, the Bible, ESV)
Jan 29, 2021
I can't believe that January is almost over!
Most of our Christmas decorations have been put away, but this Christmas Tree candle remains, surrounded by two Christmas cactuses. The cactus is so-named because it blooms once a year, normally around Christmas or in January. Vivian loves to see these annual flowers, which prove that even dry, prickly, leafless things can produce something beautiful! That's a life-lesson for us all!
We haven't done much (except work) in January, but here are a few photos. One of the special things we did was to scan old photos from our pre-digital photography days. I'll post a few here, but you can see "early digital" photos of the era (and three gorges) on our old website.
---
©2021 Michael Krigline. For contact info, visit About Us. To make a contribution, see our Website Standards and Use Policy page (under "About Us"). Pre-2015 blogs can still be found on our old archive pages.